This post originally appeared in the monthly farm animal welfare newsletter written by Lewis Bollard, our program officer for farm animal welfare. Sign up here to receive an email each month with Lewis' research and insights into farm animal advocacy. Note that the newsletter is not thoroughly vetted by other staff and does not necessarily represent consensus views of Open Philanthropy as a whole.
It was all going so well. A few years ago, plant-based meat was "the hottest thing in food" (Bloomberg), a "mainstream" trend (The Guardian), causing "a revolution in the meat aisle." (The Washington Post). Today, plant-based meat is "just another fad" (Bloomberg), whose "sizzle fizzled" (The Guardian), with "a big problem" (The Washington Post).
The media isn't the only one yo-yo'ing on plant-based meat. In 2019, Barclays predicted that alternative meat would become a $140B market over the next decade; now it says "the worst is yet to come" for Beyond Meat. In 2019, the CEO of meat giant Maple Leaf Foods called plant-based protein an "incredible growth opportunity"; now he says "we no longer believe that it will materialize."
Stagnant plant-based meat sales are driving these reversals. US 2022 retail sales are only down 2% by value, or 11% by weight, since 2020, and global trends are murkier. But that's been enough to sink Beyond Meat's bouncy share price, shrink investments, and spur layoffs in the space.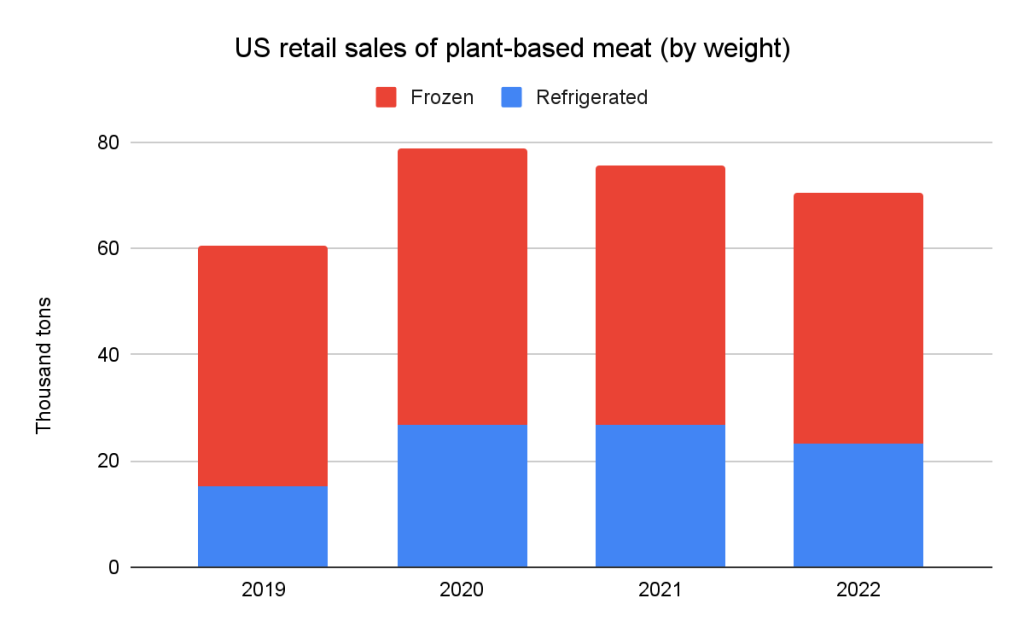 US retail sales of plant-based meat rose significantly in 2019 and 2020, and have fallen slowly since. Source: IRI data, mostly from here and here. Note that 2019 data is extrapolated from unit sales.

Unhealthy reporting
So what happened? A recent Business Insider headline summed up the conventional thinking: "Americans are quitting plant-based meat due to high prices, worse taste, and questionable health benefits."
There's something to this. Plant-based meat prices are too high — almost three times the retail price of chicken in the US. But prices rose most during the sales surge of 2019-20, and have barely budged since. Meanwhile, animal-based meat prices have risen, reducing the cost premium for plant-based meat. So, while lower prices would likely boost demand, prices alone don't explain the recent stagnation. Similarly, taste needs improving (more on that later) but has mostly gotten better in recent years.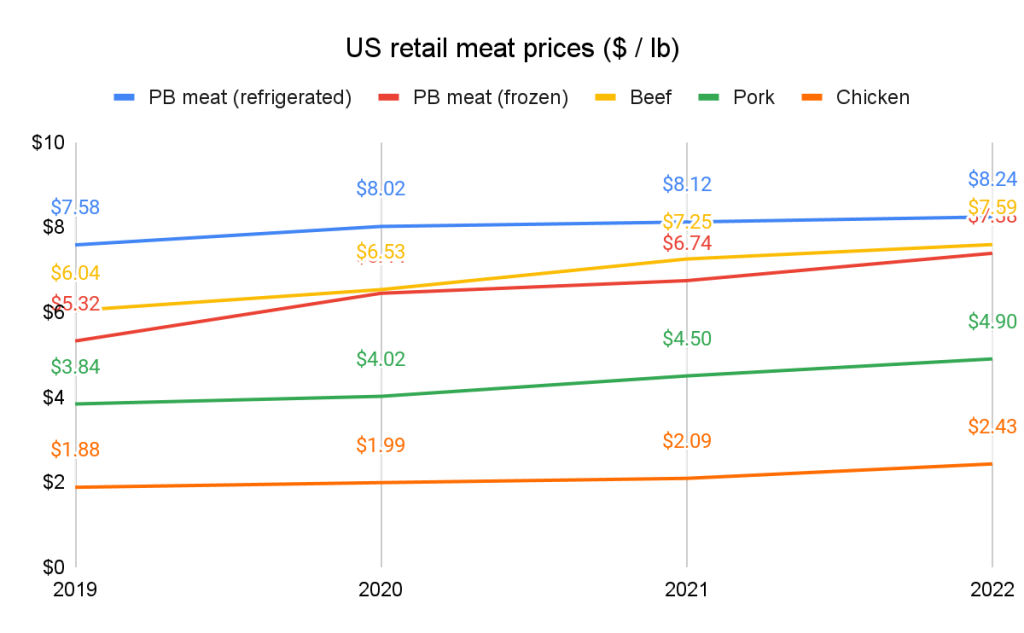 US retail prices for plant-based meat have barely budged in recent years, while other meats have gotten pricier. Source: USDA and IRI data, mostly from here and here.
What about those "questionable health benefits"? Meat producers, anti-GMO groups, and food writers have stepped up their attacks on plant-based meat as "unnatural" and "ultra-processed." Early plant-based meat adopters may be receptive to these messages, since they frequently cite health as one of the most important qualities of plant-based meat. And all consumers say they want less processed products.
But it's not clear they mean it. By one definition, 73% of US food is "ultra-processed," and sales of processed chicken rose 16% last year. The least processed plant-based meat brands have seen some of the sharpest falls in sales. Lightlife, which in 2020 took out ads attacking Beyond Meat and Impossible Foods for their "hyper-processed ingredients," has been especially hard hit. So too have barely-processed tofu and tempeh; in 2021, the last year with available data, their sales fell by more than any other category of plant-based food.
Great innovations; even greater expectations
So what has changed? I previously chalked the start of the sales downturn up to "a one-off correction after a year of unusually high growth." This now looks bigger than that. Here's one possibly story of what happened:
In the late 2010s, Beyond Meat and Impossible Foods' innovations in product taste and texture woke up a sluggish industry. Rising interest culminated in 2019-20, as Burger King launched the Impossible Whopper and Beyond Meat IPO'd. This interest generated billions of dollars worth of media coverage: US TV news stations ran seven times more clips on plant-based meat in 2019 than in 2018. This media attention drove further interest: search traffic rose tenfold globally.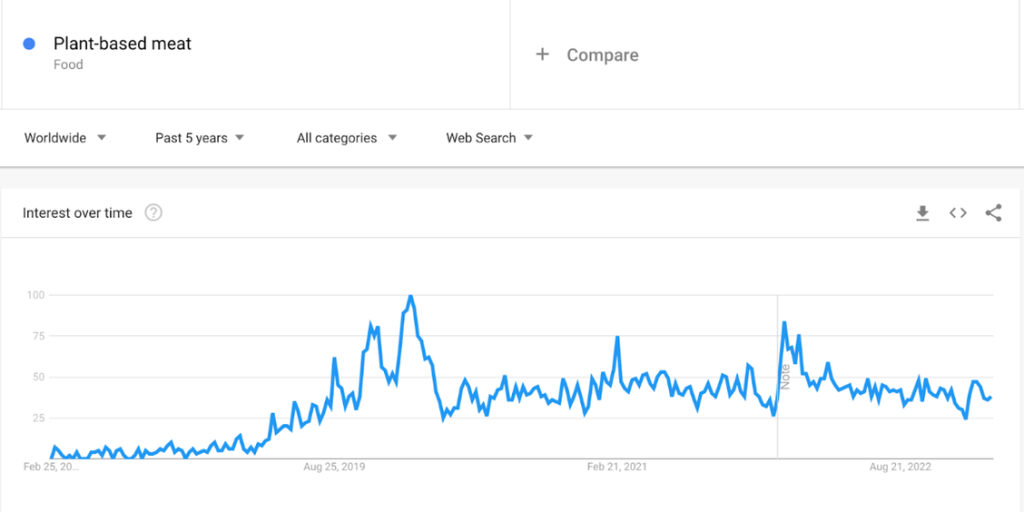 So did market expectations. Investors pumped billions into hundreds of new alt protein startups, which they pushed to rush products to market. Meat giants from JBS to Tyson rushed to launch their own plant-based brands. Excited fast food chains from McDonald's to Subway started trialing them.
New consumers flocked to try out the novel new products. By the end of 2019, about a third of US households had tried plant-based meat. In 2020, more did — fully 63% of buyers that year were new to the category, per an analysis of retail data from the Plant-Based Foods Association. In response, retailers opened new shelf space — often in the meat aisle — making plant-based more convenient than ever.
COVID may have helped: a recent study based on retail sales data found that plant-based meat adoption was "positively associated with the progression of COVID-19" across US states. This may have been thanks to stockpiling, novelty, or just because Beyond Burgers went well with binge-watching Tiger King.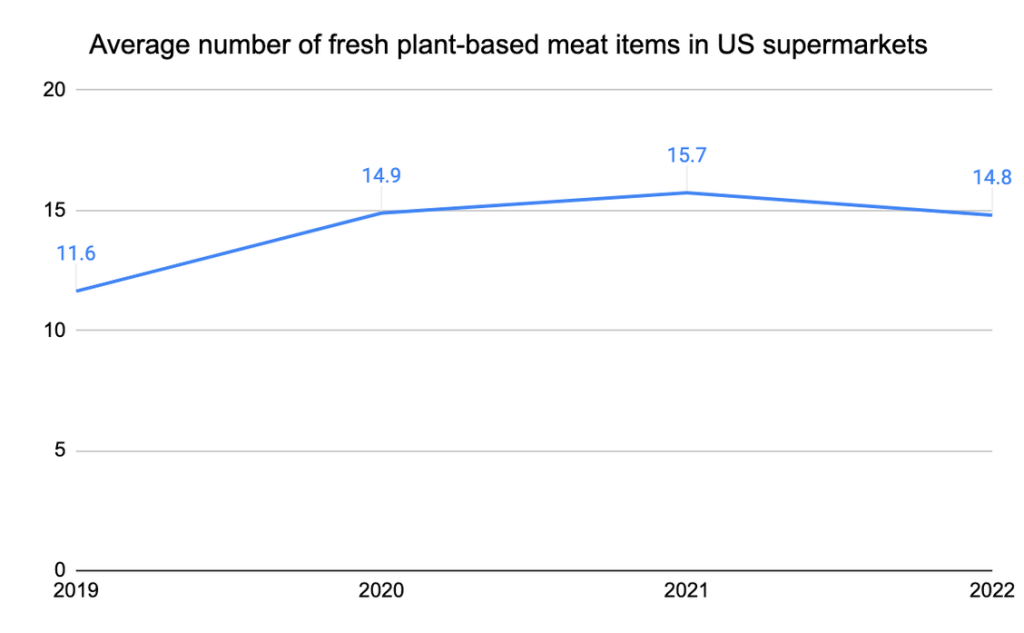 In 2020 US supermarkets significantly increased the average number of plant-based meat products they sold in their refrigerated sections. Note: we lack comparable data on sales of frozen plant-based meat, so this trend may not hold across the board. Source: IRI data, mostly from here and here.
The not-so-new new thing
It didn't last. US retail sales plateaued in 2020 and have been slowly declining since. Why? The simplest explanation is that consumers just didn't like the products that much. A recent study based on Nielsen household data from 2014-19 found that, after first trying plant-based meat, consumers spent 75% less on it in the following months. That's consistent with Maple Leaf Foods' finding that "trial rates were super high … but consumers' needs simply were not met, and they did not repeat purchases."
Mostly this was probably because the novelty wore off. Without sustained free media, startups lacked the advertising budget to hype new product launches. But those new products were almost mostly underwhelming, thanks to a dearth of new innovation outside of a few companies.
Then inflation hit. It hurt sales of all pricey meat and seafood options. US fresh seafood sales fell 8% last year, while Tyson Foods reports that consumers are trading out pricey steaks and loins for cheaper cuts of meat. Plant-based meat's premium pricing put it on the chopping block too.
That's when those sky-high expectations came back to bite. When incredible growth projections didn't pan out, some fast food chains and meat companies pulled out of the space entirely. Many impact investors, fearing the impact to their bottom line, stopped investing. And jilted retailers shrunk their shelf space for plant-based meat, often relegating it from the meat aisle to the icy wilderness of the frozen aisle.
Will the real impact investors please stand up?
The good news is that consumers likely still want plant-based meat, if it can get cheaper and tastier. A series of hypothetical choice experiments found that 21%, 23%, or 27% of Americans would choose equally tasty and priced plant-based meat over the animal-based kind. One study even found that 41% of meat eaters across 27 countries would choose equally tasty, cheap, and nutritious plant-based alternatives over "real meat from animals."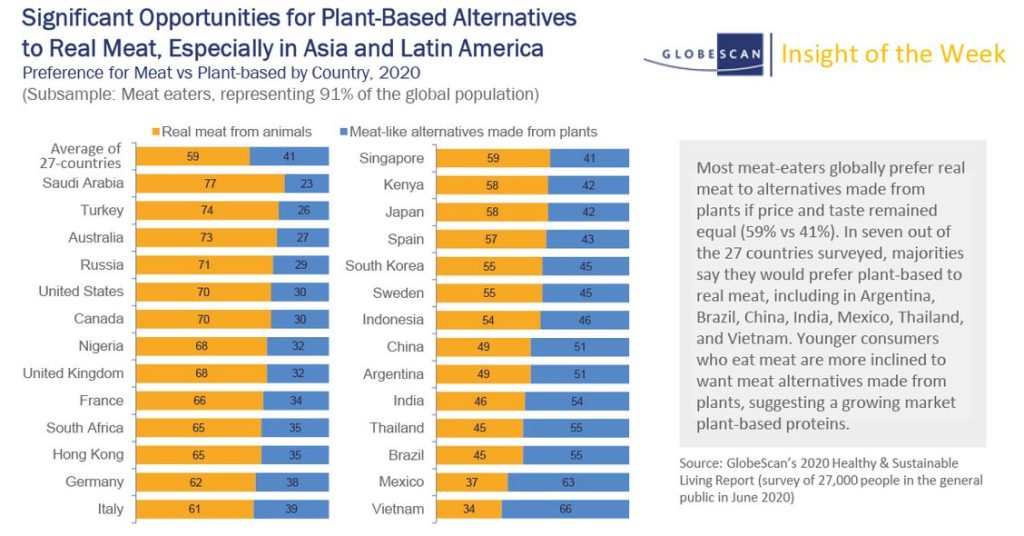 Source: Globescan June 2020 survey of an online consumer panel of 1K respondents in each country chosen to be demographically representative. Results here and more on methodology here.
How to deliver what consumers want and restore plant-based meat growth? I don't know, but I think our best bet may be to reverse engineer the story of decline:
We need innovation to create a new wave of products that are much more satisfying to new consumers than the current batch. This will require major government research investments. Governments are now investing in alternative protein research, to the tune of ~$300M to date, and the Danish government just added another €90M to the pot. But we still need billions more in well-targeted research spending.
We also need patient investors, willing to bet on long-term product R&D in a volatile sector. Beyond and Impossible got 5+ years to develop their first products; a new startup is lucky to get 6 months. I previously wrote that it's hard to be an impactful impact investor in an era of oversubscribed funding rounds. The opposite is now also true: it's impactful to invest in a promising startup when others won't, especially if you're able to support them for the long-run.
That doesn't mean that investors should rush to prop up every failing startup. Many will fail regardless. And many probably should: startups with poor products hurt consumer impressions of the whole category. But, by strategically supporting innovation-rich startups, investors may be able to foster the next generation of plant-based innovation that can spur growth in the space.
Next, we need to attract more media and popular attention to the benefits of plant-based meat. This one's tricky: we need to manage expectations until the products are better. But in the meantime we can highlight plant-based meat's animal welfare, sustainability, and health benefits — and push back against the unnatural campaign to tar it as "unnatural" and "unhealthy."
In the heady days of 2019-20, some pundits cast plant-based meat's continued growth as inevitable. We now know it's not. That's unfortunate, but it should also be motivating. Our actions — as advocates, investors, entrepreneurs, researchers, and philanthropists — could make the difference to plant-based meat's future success. That's worth celebrating, perhaps with some Impossible nuggets.